Root Canal Therapy in Peoria & Galesburg IL
What is a root canal?
A root canal is one of the most common dental procedures performed, well over 14 million times every year. This simple treatment can save your natural teeth and prevent the need of dental implants or bridges.
At the center of your tooth is pulp. Pulp is a collection of blood vessels that helps to build the surrounding tooth. Infection of the pulp can be caused by trauma to the tooth, deep decay, cracks and chips, or repeated dental procedures.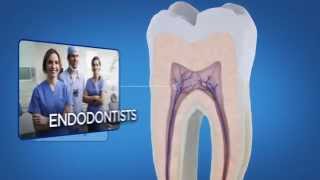 Ready to Improve Your Smile?
Dr. Stephen Benjamin & Dr. Fabian Hosein are experts in performing advanced dental procedures quickly with minimal to no discomfort. These procedures include root canal therapy, endodontic retreatment and root canal surgery. Come see how we are literally changing the perception of root canals one patient at a time.
Peoria Office
Galesburg Office
Appointments
Symptoms of a Root Canal
Symptoms of the infection can be identified as visible injury or swelling of the tooth, sensitivity to temperature or pain in the tooth and gums.
At the center of your tooth is pulp. Pulp is a collection of blood vessels that helps to build the surrounding tooth. Infection of the pulp can be caused by trauma to the tooth, deep decay, cracks and chips, or repeated dental procedures. Symptoms of the infection can be identified as visible injury or swelling of the tooth, sensitivity to temperature or pain in the tooth and gums.
If you experience any of these symptoms, your dentist will most likely recommend non-surgical root canal treatment to eliminate the diseased pulp. This injured pulp is removed and the root canal system is thoroughly cleaned and sealed. This therapy usually involves local anesthesia and may be completed in one or more visits depending on the treatment required. Success for this type of treatment occurs in about 90% of cases. If your tooth is not amenable to endodontic treatment or the chance of success is unfavorable, you will be informed at the time of consultation or when a complication becomes evident during or after treatment. We use local anesthesia to eliminate discomfort. In addition, we will provide nitrous oxide analgesia, if indicated. You will be able to drive home after your treatment, and you probably will be comfortable returning to your normal routine.
Healthy Tooth

Tooth Anatomy

Inflammation

Cleaned Canals

Filling Placed

Healed Tooth

Endodontic Presentation
To provide you with a better understanding of endodontic therapy, we have provided the following multimedia presentation. Many common questions pertaining to root canals are discussed.
What happens after treatment?
When your root canal therapy has been completed, a record of your treatment will be sent to your restorative dentist. You should contact their office for a follow-up restoration within a few weeks of completion at our office. Your restorative dentist will decide on what type of restoration is necessary to protect your tooth. It is rare for endodontic patients to experience complications after routine endodontic treatment or microsurgery. If a problem does occur, however, we are available at all times to respond. To prevent further decay, continue to practice good dental hygiene.
How much will it cost?
The cost associated with this procedure can vary depending on factors such as the severity of damage to the affected tooth and which tooth is affected. In general, endodontic treatment is much less expensive than tooth removal and replacement with an artificial tooth.
Midwest Endodontic Specialists LTD
5
out of
5
stars based on
75
Root Canal Therapy reviews.
---
Patient Review By Jeanie R
The overall atmosphere in the office was one of efficiency with consideration and care to the patient's needs. I was fifteen minutes early for my appointment. They were ready for me when I walked through the door. The entire process took no more than 45 minutes. My last root canal was close to 20 years ago. The equipment has improved dramatically since then. I have always been a little freaked out by dental drilling sounds. I appreciated being able to watch TV with headphones while the root canal was happening. The earphones muffled the outside noises and I was completely relaxed.
- Jeanie R
5

out of

5

stars
by
Jeanie R
on
Patient Review By Jenny O
Everyone from Nikki at the front desk to Jamie in clinical were so helpful from the beginning of my visit to the end. Everyone was so accommodating and my procedure was painless! Thank you all for your great work you do. Thank you again Dr. Hosein!!
- Jenny O
5

out of

5

stars
by
Jenny O
on
Patient Review By Marcy N
I have anxiety with dental procedures.. Dr Benjamin explained everything well, kept me informed of the progress as he worked, told me how long things would last, and I did not feel anything!!! Even the 3 injections, including 1 in roof of my mouth. He is very skilled, kind ...wonderful!! Definitely recommend him/them. (Both Dr's are excellent) . The entire staff happily answered all my questions.. and his assistant, Kili, was more than happy to fulfill my requests (for music, for letting me sit up vs lay back while waiting for the novicaine to take effect , etc) great people!!! It is very obvious they love what they do... very compassionate. Thank you, Dr Benjamin & staff!
- Marcy N
5

out of

5

stars
by
Marcy N
on
Patient Review By Patricia W
This office was CLOSED, and yet they opened on a Saturday afternoon because I was in pain - Who does that these days ? Dr Benjamin was excellent and Julie too - compassionate - no pain at all ! I highly recommend them to everyone! You don't find a business anymore like this one that goes beyond like they did !
- Patricia W
5

out of

5

stars
by
Patricia W
on
Patient Review By Robin P
Staff was very nice Dr. Fabian explained everything to me before and after the procedure which I appreciate. First time having a root canal and I was very nervous but I never felt a thing. No pain and very comfortable throughout the process.
- Robin P
5

out of

5

stars
by
Robin P
on
Patient Review By Mica L
Amazing care. I was comfortable the whole time thanks to Dr.Fabian. Nikki and tabetha were also so friendly!!
- Mica L
5

out of

5

stars
by
Mica L
on
Patient Review By Jenny V
In any case of emergency need or general endodontic care you must see Dr. Hosein. The office runs with great efficiency and is quite sensitive to your families wellbeing. I appreciate the prompt assistance to check my insurance benefit to further prepare for the visit.
- Jenny V
5

out of

5

stars
by
Jenny V
on
Patient Review By Darlene B
I had Tabetha and Alex with me when I had my root canal done. I was very skeptical when I got there because I thought I would be bored with it all. But I was pleasantly surprised. They made me relax and the whole thing was easy and did not take long at all. I love the music atmosphere and could have watched something on Netflix with the tv on the ceiling. That was so cool. But I loved the music station and went with that. It was a good experience. Thank you Tabetha and Alex.
- Darlene B
5

out of

5

stars
by
Darlene B
on
Patient Review By Elizabeth Q
From the moment I walked into the door to the moment I walked out was above and beyond service. No one should ever be scared of a root canal, especially if they go to Midwest endodontics! Everything ran smoothly and every single member of the staff displayed over the top professionalism, customer service, and quality care. They even had a TV on the ceiling with noise-canceling headphones and I almost fell asleep. If you need a root canal, Dr. Ben is your man and Midwest Endodontics is your place!!!
- Elizabeth Q
5

out of

5

stars
by
Elizabeth Q
on
Patient Review By Larry S
I had only had one other root canal in my life (not by this group) to compare. At this office there was no pain and I have very sensitive teeth. Very kind very efficient . I cant thank you enough. I highly recommend this group.
- Larry S
5

out of

5

stars
by
Larry S
on
Patient Review By Joy S
Caitlin and Nikki were awesome. Very caring and very knowledgeable! Just so nice and made me feel at ease...I was very very anxious about having this procedure. Dr. Fabian was also Awesome! Kind, caring, explained everything and I was not in pain at all during the procedure. Had earphones on and watched TV. Just close your eyes and pretend you are home laying on your couch watching TV and before you know it ... it's all done!
- Joy S
5

out of

5

stars
by
Joy S
on
Patient Review By Tom D
I was most impressed with the professionalism and attention to detail. The entire staff went above and beyond to make sure I was comfortable at all times. Dr. Benjamin was very informative and answered all questions to my satisfaction both before and after the procedure. Dr. Benjamin also kept me informed of our progress during the entire procedure.
- Tom D
5

out of

5

stars
by
Tom D
on
Patient Review By Karen H.
I had a Root canal for cracked tooth that would not otherwise be easily diagnosed because isn't visible to naked eye or on X-ray. Midwest was able to save the tooth and ease pain. I didn't feel ANYthing during the procedure (including the dreaded Novocain shot). Everything Dr. Hosein did was explained in detail before, during & after. What sets this group apart is the level of skill/ ability to save teeth/ their techniques and technology and compassion for patients. Truly remarkable/ don't see much anymore in healthcare industry.
- Karen H.
5

out of

5

stars
by
Karen H.
on
Patient Review By Richard B
I always heard horror stories about the root canal procedure and went into this with a lot of anxiety. I was not at all familiar with this practice or the procedure, and I couldn't believe how painlessly and comfortable the procedure went. The entire staff was great! I hope I never need another one, but if I do, it will be performed by this office.
- Richard B
5

out of

5

stars
by
Richard B
on
Patient Review By Fred W
This was really a great experience. Dr. Benjamin and his staff took plenty of time diagnosing my pain so that they treated the exact problem--no hit and miss. He figured it out correctly and treated me promptly. The procedure was less painful than expected and brought great relief. The staff is super nice and efficient as well. Very friendly and professional. Great people!
- Fred W
5

out of

5

stars
by
Fred W
on
Patient Review By Chris M
Posting on behalf of my disabled brother who has had a horrific dental history. Dr. Fabian Hosein reviewed his case meticulously, advised a practical treatment plan but most importantly has provided premium care and concern for my brothers welfare over the past 15 months. He's been able to save four teeth (so far!) with the retreatment of root canals w/ chronic infections that otherwise he would have lost with his expertise. Not once did my brother flinch in pain. Matter of fact, my brother asks when he gets to see Fabian next— he knows it will lead to him feeling better. Midwest Endo has changed the quality of life and health for my brother and has the compassion and concern not often seen anymore with health providers.
- Chris M
5

out of

5

stars
by
Chris M
on
Patient Review By Jan N
I had to have an immediate root canal...2 of them actually. This wasn't my first root canal with Dr. Hosein, so I knew what to expect. I was only nervous about the consult to find out which tooth needed treatment. That was the only painful part. The actual procedure was a breeze and pain free. I have a hard time getting numb, but Dr. Hosein doesn't have a problem at all. I think the whole procedure took about an hour from start to finish. The next day I was pain free from the tooth problems. I have also used Dr. Benjamin in the past. That experience was great too. That staff is also very friendly and helpful.
- Jan N
5

out of

5

stars
by
Jan N
on
Patient Review By Barbara C
To do a root canal Dr. Hosein had to drill through a bridge and a wisdom tooth. I was very anxious prior to the procedure, since we were getting ready to leave the country for several months and I was worried about infection and about subsequent pain. The staff couldn't have been more kind. I'd had one previous root canal with a different doctor, and even though this was a more complicated procedure, the whole experience was vastly better. Thank you Dr. Hosein, from sunny Portugal! It's so nice to eat different foods (and drink different wines) and not be in any pain at all.
- Barbara C
5

out of

5

stars
by
Barbara C
on
Patient Review By Vicki G
Dr. Fabian and his staff were so kind and gentle with me. I was extremely nervous about having a root canal and they asked me about my fears and reassured me everything would be fine. They have a TV on the ceiling for you to watch and also noise-canceling headphones. I highly recommend this office and if I need a root canal in the future, I wouldn't consider going anywhere but here. They are AMAZING!!
- Vicki G
5

out of

5

stars
by
Vicki G
on
Patient Review By Bruce S
I was thankful the whole experience was quick and take home instructions explained thoroughly. They focused on patient comfort using latest technology, TV on the ceiling to redirect your thoughts, and procedure was much smoother than my experience about 10 years ago at another facility
- Bruce S
5

out of

5

stars
by
Bruce S
on